Description
Archer MR200 AC750 Wireless Dual Band 4G LTE Router
Wi-Fi wherever you want
The Archer MR200 offers superior convenience and agility. Ready to build wireless network quickly. Effective And very importantly, the Archer MR200 is the perfect solution whether you are at home. At work or in remote places Just plug in for efficient on-site services and stay connected to a diverse range of areas. For example, from the exhibition center to the RV Archer MR200 has better coverage.
Share your 4G LTE network
Take advantage of your advanced 4G LTE network with the Archer MR200, which can get up to 150Mbps download speeds. The Archer MR200 lets you share your 4G LTE network with a variety of Wi-Fi devices so you can enjoy. Watching HD movies continuously, fast file downloads and uninterrupted video chats.
Good coverage and dual-band Wi-Fi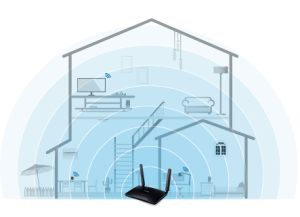 4G LTE router creates two simultaneous Wi-Fi networks. It can transmit data at up to 733Mbps speeds on two different wireless networks using 2.4GHz and 5GHz bands for best performance and reduced signal interference. The combination of advanced antenna and latest wireless technology will allow you to enjoy a stable connection and incredible coverage.
No Sim card setup required

By combining the 4G LTE modem antenna with a SIM card slot. All you need to do is simply insert your SIM card and turn on the Archer MR200. You'll enjoy fast and stable Wi-Fi connectivity on the LTE 4G network.
With backup WAN port to connect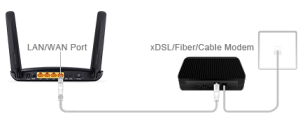 By combining Archer's WAN / LAN ports, the MR200 also supports a variety of connection types, including cable modems, fiber optic modems, and DSL modems.
Archer MR200 AC750 Wireless 4G LTE Router
Model
Archer MR200
Interface
3 10 / 100Mbps LAN Ports, 1 10 / 100Mbps LAN / WAN Port, 1 SIM Card Slot
Standards
IEEE 802.11ac / n / a 5GHz, IEEE 802.11b / g / n 2.4GHz
Antenna Type
3 Internal Wi-Fi Antennas, 2 Detachable External 4G LTE Antennas
Security
64/128-bit WEP, WPA / WPA2, WPA-PSK / WPA2-PSK encryptions
Network type
4G: the FDD-the LTE the B1 / B3 is / B7, /, B8 / of B20 (2100/1800/2600/900 / 800MHz)
the TDD-the LTE B38 / B40, (2600 / 2300MHz)
3G: the DC-for HSPA +, / for HSPA +, / for HSPA / the UMTS the B1 /, B8. (2100 / 900MHz)
2G: the EDGE / the GPRS / a Quad, Band the GSM (850/900/1800 / 1900MHz)
Note: Not compatible with MY 3G, DTAC (850Mhz), TRUE H (850Mhz)
Overview:
Archer MR200 English
QIG Guide:
Archer MR200 Quick install guide English
User Guide:
Archer MR200 User Guide English
Support:
Archer MR200 Support site